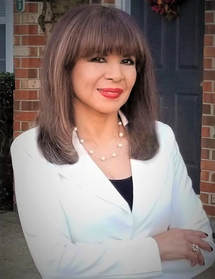 ​"Teaching Spanish is my passion"

Hi, my name is Myriam, a member of the Hispanic Chamber of Commerce in Hampton Roads. I am an American citizen, but I am originally from Lima, Perú. I have worked as a bilingual administrative assistant and as an interpreter for 25 years in the United States. I graduated from San Antonio College, San Antonio, Texas. I now have my own company and offer private Spanish lessons to people who are interested in learning this beautiful language.

With the right tutor, learning Spanish can be fun. Let me help you with beginning, intermediate or conversational Spanish. I create and provide my own lessons, so it is not necessary for you to buy books. You will learn pronunciation, grammar, writing, spelling and useful expressions. I use a very effective method of teaching, which makes it distinctive from others.

Please beware of Spanish programs or mediocre services that don't deliver. They all promise you will be able to speak a foreign language in a few days or with a few lessons and that is simply not true. You have to memorize your nouns, verbs and grammar to be able to speak it fluently; there are no shortcuts. It is also necessary to have a tutor who answers all your questions and stops you when you are not pronouncing a word correctly. I have a very well thought out program that delivers results; please check my reviews.

I would like to mention that I had the opportunity to teach Spanish at the University of Virginia in Charlottesville and my students were very happy with my performance. I use a very professional approach and have an enthusiastic and
​cheerful personality.

Start today! Become bilingual and enjoy all the benefits it brings. Call, text or e-mail me anytime, and I will respond to you as soon as I get your message. Please know that these are one-on-one sessions, so you will not share your lesson time with anyone else, and you will have my full attention. I look forward to meeting and working with you.


---
Call or text now to reserve your spot! (757) 419-7349.

Free personal consultation
---